Week 2 of Season 5 – this week we didn't play on the house pattern, instead we put down the Dunstable Version of the 42ft Crown Jewel pattern that's being used in the upcoming Senior Nationals. Championship – Richard Parker had his best ever night in the league shooting games of 181,194,216,215 for an 806 set, and that won him the high game and high series pots. Overall – the evergreen, ever young Gerry Wrathall leads the league at this early stage, with Richard in 2nd and James Bignall in 3rd. Premiership – Matt Trotter opened up with a 257 game, but Nick Kowalski went and shot a 266 in game 2 and that looked good for the pot… but then it happened… the world stopped spinning… and Lee Bradley went and threw 12 strikes in a row for his first 300 and the leagues 2nd – after being on 45 in the 5th frame in game 1 you would have never thought Bradders had a 300 in him, but up he went in the 12th frame shaking like a sh**ting dog with a bead of sweat running down his slap. He was a tiny bit inside of his target but it hit pocket for a strike. The high series pot went to Nick Kowalski with a 872 and the top point scorer on the night was Paul Loberman. Overall – Roger Hurst is still top of the league, with last years Matt Trotter in 2nd and Carl Buckley in 3rd. This week because I'm out with a sore back I set up the stream and recorded some you bowling… including Lee's 300… you can watch the stream via Twitch, you don't have to register to watch the stream.
https://www.twitch.tv/videos/1473260768
  – – there is some TOP TOP commentary on here. Next week we will be playing again on this Senior Nationals Pattern… then the week after we will revert to the house pattern for a few weeks. ** There is no ladies scores separated out for week 2 as we only had 4… next time we get 5 or more ladies bowling I will filter out the scores and that will be your week 2 results ** Anyone can come and bowl in the league, even if its just for a one off practice. Registration is from 7.30 and we start bowling at 8.00pm.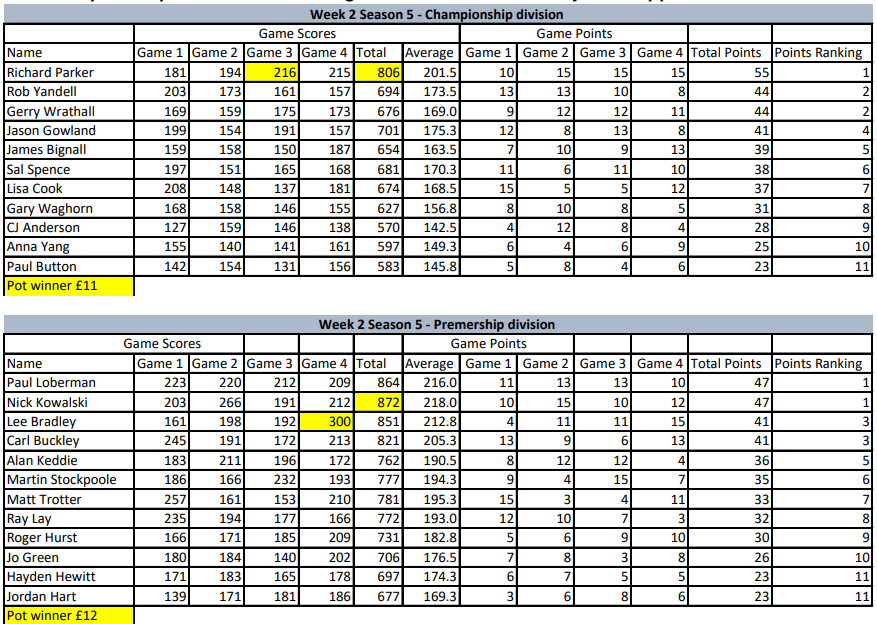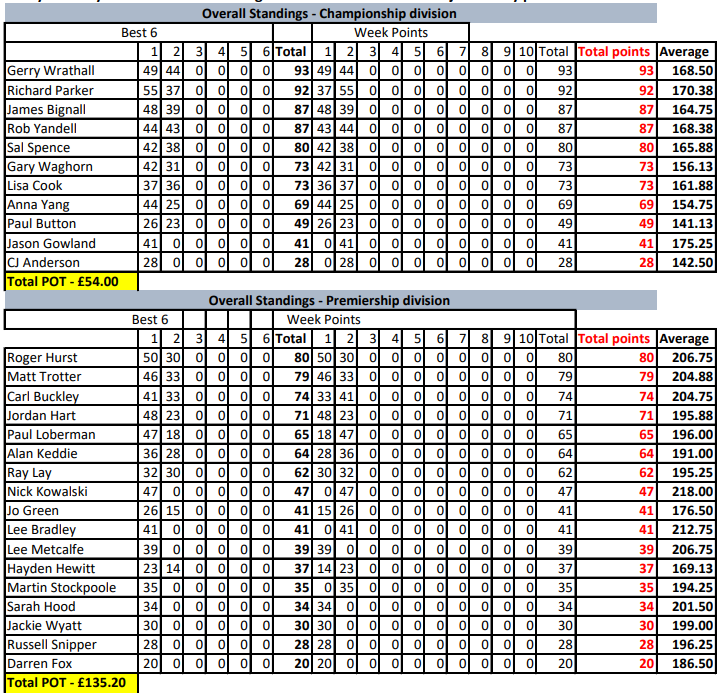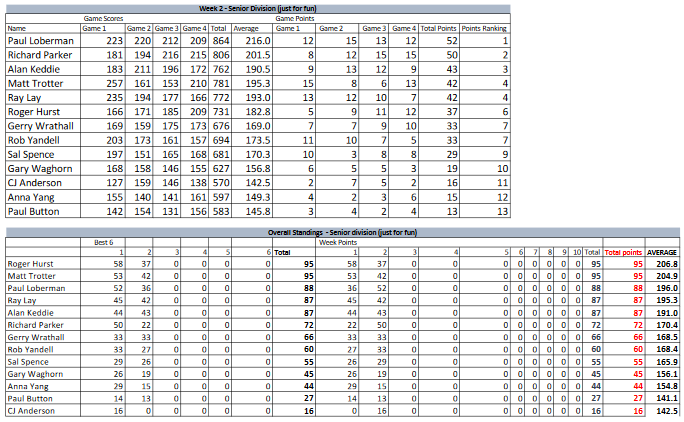 Week 1 of a new season – season ! It seemed to be a tough week with the scoring down across both divisions – I did feed back to the Tech on duty that perhaps the machine might need looking at, making sure everything is working as it should. Championships – The bowlers in this divisions seemed to struggle the most, with no bowler breaking a 700 series. Winning the high pot was Gerry Wrathall, whose had a few rough weeks on the lanes, but this week his 672 was good enough to win a pot. High game pot was just a 189 and that was shot by Sal Spence Premiership – Its going to be a competitive league this year if we keep the numbers the same, because with 14 bowlers playing the prem this week points were hard earned. Again like the Championship the scoring was down , but down on the lanes 3 & 4 the bowlers weren't affected. Out of nowhere Roger Hurst put together his best ever 4 game block in the league with games of 246,235,198,244 for a 923 and 50points and the high series pot. High game pot went to newly promoted Jordan Hart who on the same pair as roger shot a 277 for a 890 set. Hi this year, as long as get 5 or more ladies each week I'll do a separate ladies league. New week is bank holiday Monday – but of course WE STILL BOWL… no let up we go again ! Lane Patterns for the next couple of weeks… 2nd May – SENIOR NATIONALS 9th May – SENIOR NATIONALS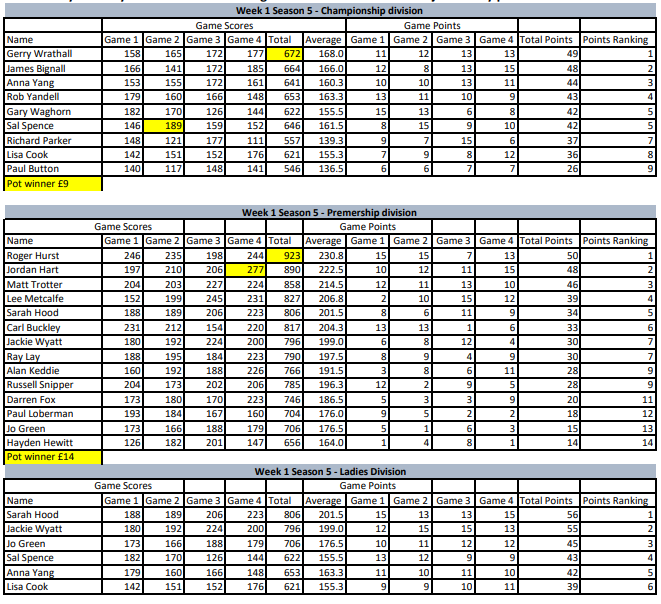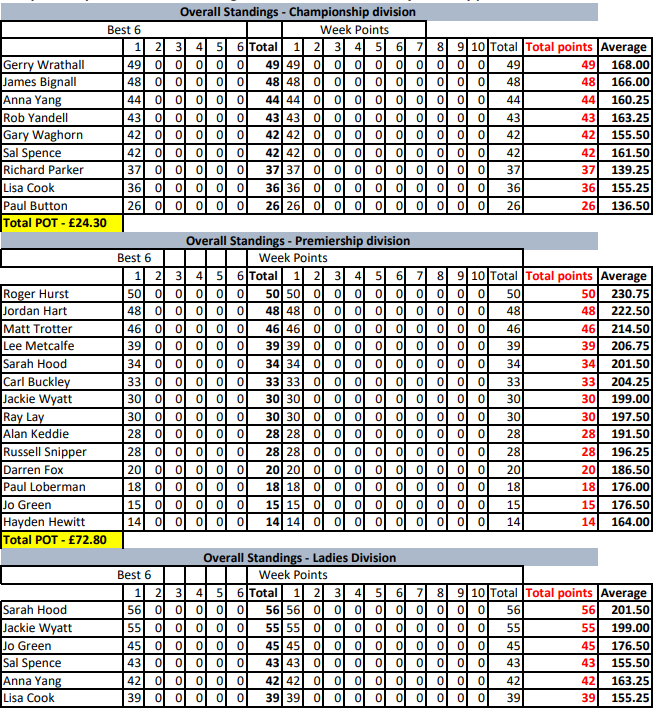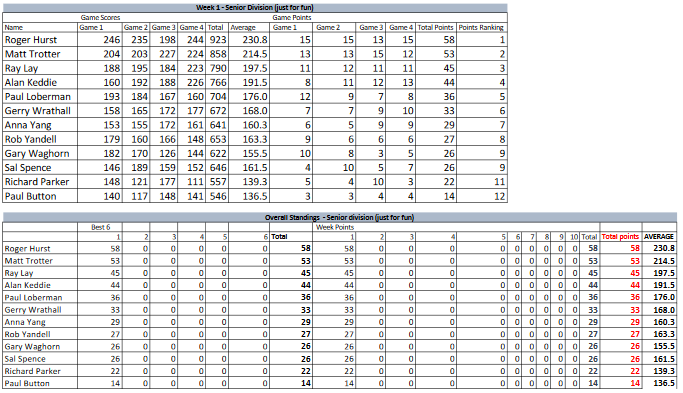 Source:
https://wp.talktenpin.net/2022/05/05/se ... n-singles/